The Table of Contents Plus plugin is a free and very user-friendly plugin that automatically creates a specific table of contents. The neat thing about the table of contents plugin is that it produces a sitemap listing pages and will categorize the entire website you are browsing. It will make the site more organized and easier to navigate by cataloging information into a structured table of contents.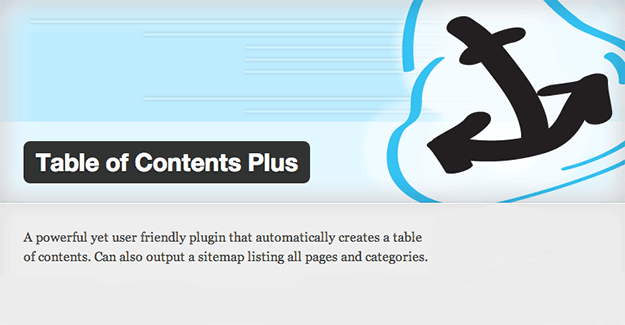 One of the amazing aspects of this powerful plugin is that it allows the author of the page to insert content that will summarize the rest of the page. This specific plugin was built with Wikipedia in mind. If you have ever visited a Wikipedia site, you can easily see how this plugin can be extremely useful in efficiently organizing information by specific indexes and categories.
Sites that are also packed with high volumes of content can benefit from the table of contents plugin. This plugin will structure your site's information in the best way possible. Bloggers can also benefit from the plug in because it can efficiently structure long articles.
The table of contents plus plugin includes an administration panel that will allow you to customize settings such as appearance and display position. The panel also gives you the option to define the minimum number of headings before an index is displayed. This panel also opens up to include options such as keeping heading levels from showing and adjusting the top offset.
Here is a wonderful example of what Table of contents Plus can do for you.
The TablePress plugin is another free, innovative plugin that will help you create and manage your WordPress site. As a user, you do not have to have any HTML knowledge. The smooth interface allows for easy table editing. Tables can contain all types of data such as formulas. This plugin also contains a JavaScript library that can filter and sort. The TablePress plugin allows you to insert tables into posts and all of your pages very easily. Tables can also easily be imported and exported from Excel. This plugin has a variety of features to suit your needs.
Some of the features of this plugin include:
-Managing tables in your WordPress
-Putting tables in your posts and on your pages
Table features with this plugin include:
-All sorts of content, including text, images, links, etc.
-Formulas similar to those in Excel
-First or last row can be made the table head row
-Alternating row background colors
-Print table description above or under the table
-Features of the JavaScript library, including sorting, filtering, and pagination.
It also includes functions in the editing interface such as:
-Add/create tables
-Import tables
-Export/save/backup tables
-Edit the table data and structure (add/insert/delete/move/swap/duplicate/hide columns/rows, sort columns)
-Add links or images to your table with ease
-Copy/duplicate and delete tables
-Easily insert a table into your posts and pages using a button in the editor toolbar
You can see a perfect example of Tablepress use here.
These are just a few of the features and functions of the Table of Contents Plus and Tablepress plugins. They are both free, innovative plugins that will help you to organize and structure your pages with ease.